ENTRY TIME
The Studio Shop is available to access after your Studio Tour. Due to the one-way system in place, it is currently not possible to visit the shop before your allocated time slot.
On arrival at the Studio Tour, you and your bags will be searched before entry. We request that you do not bring large or multiple items of baggage. Please consider this when planning your arrival time and considering what to bring inside with you. Certain items are prohibited from entering the tour. For more information click here. We ask for your support in assisting our staff with this process.
---
CAR PARKING
Parking is provided free of charge in our car park which is a short walk away from the entrance to the Studio Tour.
When entering the car park, please make sure you have your booking confirmation ready to show our Car Parking team. If visiting as part of a group travelling independently, each vehicle will require a booking confirmation to show at the car park entrance.
Fully trained assistance dogs are welcomed into the Studio Tour. We do not allow other dogs or pets to enter the attraction and they cannot be left in vehicles for safety reasons. The nature of the attraction means that visitors cannot return to the car park until the end of their visit.
Electric Parking
Pod Point charging stations are also available for electric vehicles and require the user to download the Pod Point Open Charge app on a smartphone for use. Please note that Pod Point is a third party service provider and use of a Pod Point charging station is subject to Pod Point's terms and conditions which visitors can find here.
Blue Badge Parking
A number of blue disability badge parking bays are available free of charge next to the Studio Tour entrance for the convenience of our eligible visitors. Please ensure that you bring your disabled parking badge on the day of your visit and display it in your window.
Priority Parking
Priority Parking is located next to the Studio Tour entrance and is available to purchase online with your Studio Tour tickets for an additional £10.
Priority Parking is only available to pre-book online ahead of your visit and cannot be purchased on the day.
If you have chosen to receive e-tickets, your Priority Parking ticket will be delivered with your admission tickets as an email attachment. If you have chosen to receive your tickets via the post, you will receive a printed Priority Parking ticket.
On arrival to the Studio Tour car park, please present your Priority Parking ticket to the team member at the first ticket check point, you will receive a windscreen sticker and be directed to the Priority Parking bays close to the entrance.
---
DROP OFF POINTS
You are welcome to drop off visitors before the entrance to the car park if you are not visiting the Studio Tour. Visitors will need their booking confirmation to show on arrival. A valid ticket is required for each person to enter the car park.
---
TICKET COLLECTION
If you have an email booking confirmation you can collect your tickets from the ticket windows outside of the main entrance. If you have e-tickets for your visit, you can show these on your mobile device (or printed) upon arrival at the main entrance.
All tickets to Warner Bros. Studio Tour London must be pre-booked and access is only available to those with a valid booking confirmation which will be checked on arrival prior to entry to the Studio Tour car park.
---
MAP OF THE STUDIO TOUR
Use this map to plan your visit and find your way around Warner Bros. Studio Tour London. Download the map.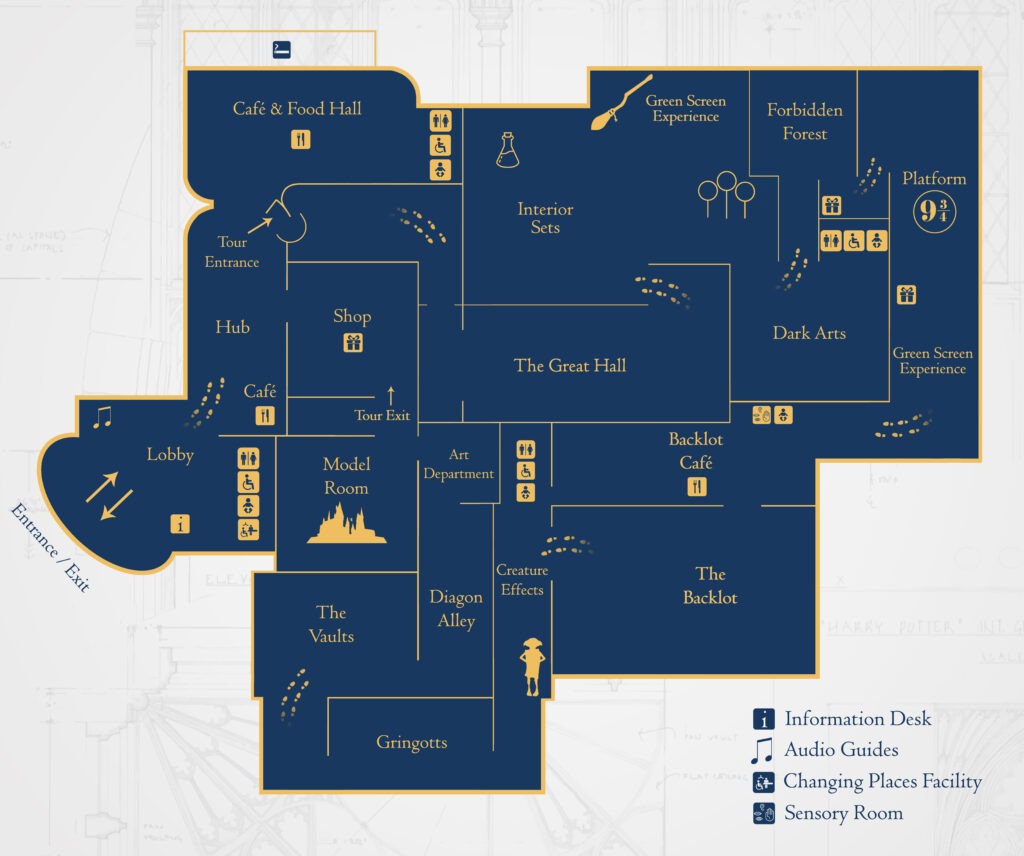 ---
TAKING PHOTOS
The taking of photographs and capturing video footage with handheld cameras and mobile devices is allowed in all areas of the Studio Tour, apart from the pre-show cinema and green screen areas. Please note, filming with the use of tripods and other specialists photographic equipment is not permitted.
---
CLOAKROOM
Coats and bags can be left in our cloakroom free of charge for the duration of your visit. Please note that we are unable to store food in our cloakroom.